The Name "Korysuyo" comes from the quechua language  (the Quechua are the largest indigenous group in Bolivia) and means: "golden land". Its our pleasure to guide you on a trip through this "golden land".
We, Roberto Escobar Arnez from Cochabamba (Bolivia) und Katharina Cerny Escobar Arnez from Bern (Switzerland), founded Korysuyo S.R.L in 2011. Since we settled in Cochabamba in 2006, we spend our free time exploring the region by foot or mountain bike, always looking for interesting rock climbing routes. Korysuyo was created out of our passion for outdoor activities, our interest in Bolivia's cultural diversity and the desire to share our "discoveries" and our love for this wonderful and fascinating country with visitors from the whole world.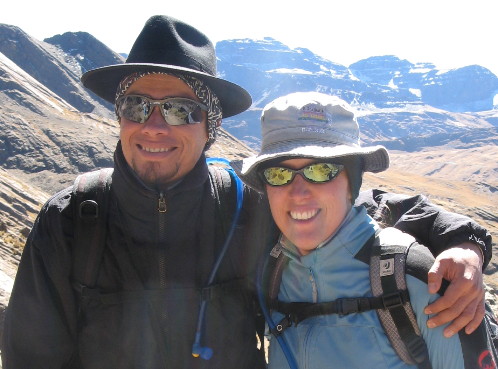 Roberto Escobar Arnez from Cochabamba (Bolivia), speaks spanish, quechua and english. He is currently studying tourism and hotel management and has many years of experience in organising and conducting tours and excursions.
Katharina Cerny Escobar Arnez, from Bern (Switzerland), majored in social anthropology, spanish and communication studies at the University of Fribourg (Switzerland). She speaks german, french, spanish, english and quechua. During her previous work as a project manager for a bolivian NGO, she got to know the multi-facetted bolivian reality from the inside.